This is the post I promised you earlier - the one where I reveal our photographers. To find them,we went through countless flash sites, but it was so worth it at the end!
Yes, we got not 1 but 2 photographers - Megan and Amy from Click Imagery and they are great! After we contacted them it turned out that they were free on our date (yay! at this point I'm starting to appreciate a Sunday wedding) and quickly scheduled a phone consult. We talked on the phone for an hour (!), Megan patiently answered all our questions - I prepare a two-page list of questions for each vendor now :) so each poor vendor is subjected to a questionnaire, which is a compilation of questionnaires from 3 different wedding books. A few days later we met Megan and Amy at their studio and "clicked" right away. We clicked with Click Imagery.... did anyone notice my first pun?! Honestly, I think we clicked even before meeting, right when we found out that they love squirrels! How perfect is that?! Just because I like bulleted lists, here are a few reasons we decided to go with Amy and Megan:
We liked their pictures - they are focusing on human emotions and take great portrait shots. They also take good creative shots (including pretty shots of details - from flowers to shoes).
They are of the same generation as we are and we have a lot in common with them and seem to really connect.
They gave us a couple of references and I got a rave reviews of them from both of the brides. We saw [a ton of rave reviews of them on WeddingWire][], but wanted to get references just on principle.
Did I mention they love squirrels? :)
I can't tell how happy it makes me to know that we found our photographers!!
They are going to do our engagement session and I can't wait! Before I got engaged, I didn't even know that people did engagement session. Then I immersed myself in the sea of wedding blogs (just weddingbee, I swear!) and wedding planning literature .... and my eyes opened. People did engagement sessions! and formal bridal portraits! and photo-booths or fauxto-booths! Out of all these ideas I think I was first excited about the photo-booths. I still have not figured out if we're going to try and have one. Formal bridal portraits seem to be uncommon in this part of the country and I wasn't fascinated about them at any point. But engagement session... engagement session I never quite considered until we started shopping for photographers. Then, suddenly it became clear that having your pictures taken by a professional photographer BEFORE the wedding is a good idea. Neither I nor Erik have had our pictures taken by professionals in our adult life, and the wedding day doesn't seem like a good day to try this for the first time since we were 5. By the time Megan and Amy added an engagement session to our package, I was sold on the idea, and now I can't wait to do it!
Megan and Amy were very nice to let me post some of their pictures here. You can see with your own eyes what I love about their photos:
[caption id="attachment_158" align="aligncenter" width="221" caption="I just love the warmth of this image. Pretty quickly I realized that I like the photos with shallow depth of field (I'm using photography lingo like a pro now!), as they tend to focus on people and their emotions rather than on some random detail in the corner."]
[/caption]
[caption id="attachment_157" align="aligncenter" width="300" caption="Another example of a shot with a shallow depth of field. You can tell how happy the bride is. This is just another example of a beautiful shot that showcases people's emotions - the most important thing in my opinion for a wedding day photography."][
][][/caption]
[caption id="attachment_154" align="aligncenter" width="300" caption="Okay, I know this shot does not portrait the human emotions, but that's fine. It's very pretty and hey, I do want a good shot of our cake (hopefully it'll be a pretty TASTY cake - see where my preferences lie?). And I want a good shot of my shoes! Apparently that's another "in" thing. :) "]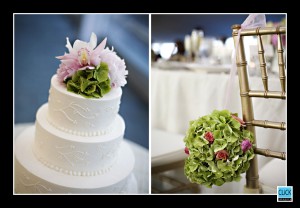 [/caption]
[caption id="attachment_155" align="aligncenter" width="300" caption="And just when you thought I picked the shots that were all about the bride - here are the shots with the bride and the groom. These shots do what good wedding shots of the bride and groom should do - show how happy these two people are."]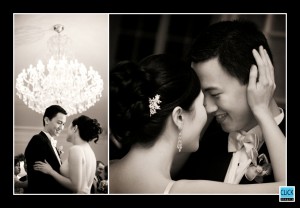 [/caption]
More pictures from Megan and Amy from Click Imagery are available at their website. You should also check out their blog where you can see more pictures. See for yourself why I'm so excited about our photographers. :)
All images in the post are courtesy of our awesome photographers Megan and Amy from Click Imagery.
[
]: http://ksusha.org/wp-uploads/2010/06/2028F.jpg