One doesn't really need to sell the idea of a new hobby to us - we get excited pretty easily. There is probably one biggest constraint that stops us from piling up more crafty projects in the house (mind you we already have piles of crafty projects everywhere as is) - TIME. Let's face it, we don't have a lot of down time for hobbies. Oh for the days when I had the  whole summer to do nothing but crochet dollies ... I miss those days... Really, as you grow older your vacation time shrinks - in school I had all summer off (yes, I know in the US poor kids study pretty much all June and then work the rest of the summer but I didn't grow up here), in college I had 2 months off in the summer, in grad school I  had something like 4 weeks off and now I have 3 weeks which accumulate throughout the year. Take this year - I had to borrow time  off at the beginning of the year for a family emergency and now I have accumulated 1 day off. One whole day ... insert sarcastic laugh here.... Vacation is no longer a time for me to spend on hobbies. These days I want to have "productive" vacations - travel to new places, fix major things around the house etc., not sit around all day embroidering the blanket I meant to give a friend when she had a baby (a baby who is 1 year old now and is growing out of the non-finished blanket very fast). These days you got to fit hobbies into your everyday life... Easier said than done.
Now let's take wedding crafty projects. Since we both work full time we have to find time  on weekdays to do the crafty wedding things. It  forces us to actually do crafty projects after work instead of sitting on the sofa in a zombie state watching TV. This is great most of the time, actually, except for the time when I get so tired of making our awesome invitations that I want to cry. This is when I get to appreciate my FI's wiliness to give me a massage any time I ask :).
So far we have been very successful at making our wedding into an excuse for new hobbies. It all started with punches. I started buying them on sale at Joan's and Michaels and tried to sell Erik on the idea of using them in our invitations. It wasn't working. Erik was not sold on the idea no matter how many times I casually mentioned using punches in our invitations. Then there was the turn of stamps. I wanted to have a squirrel stamp somewhere on our Save-the-dates. Alas, we didn't particularly like anything from the stores (and it was impossible to find a stamp of 2 squirrels looking at each other, or even 2 stamps of squirrels facing opposite directions). Erik has also  attempted to make our own squirrel stamp... Let's just say the first and final attempt wasn't up to our standards. :)
At some point we were looking into a possibility to order a custom punch from somewhere (think squirrel punch) when we came across the laser cutters. Erik has gotten excited about those before but they are still pretty expensive... we're talking thousands of dollars. And then, just like that and thanks to Google, the answer came to us. And it's name was Cricut!
[caption id="attachment_267" align="aligncenter" width="300" caption="Here it is, the beauty!"][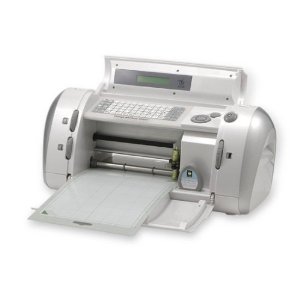 ][][/caption]
For those not familiar with this device  - Cricut is a machine for cutting out designs from paper (and some other media, like thin vinyl). It mostly targets scrapbookers, and is sold, apart from Amazon, in the craft stores.
We made sure that it had ability to use custom designs - yay forSure Cuts a Lot software. It's interesting that Cricut's business model seem to be structured around people buying the cartridges for \$20-80 with designs of Hello Kitty and cute animals. That would not have worked for us. Instead, we designed the flower and vine pattern to cut out in Inkscape, saved it in .SVG format, connected the Cricut to a computer and cut the design out with Sure Cuts a Lot. When I said "we", I mainly meant Erik. He has been the vector graphics guru in the household. I was mostly critiquing the design and helping to cut things. Here is our Cricut:
[caption id="attachment_268" align="aligncenter" width="300" caption="Getting ready to start chewing on, I mean cutting, the paper. I think I can still hum the sound it was making while cutting out the design - I had to listen to it about 150 times."]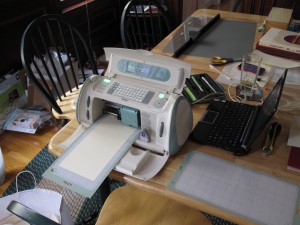 [/caption]
Here you have it - instead of looking for people we know with access to laser cutters, we got ourselves a new toy to play/cut 150 invitation flaps with. I would recite old Russian saying: "мы не ищем легких путей", which I can translate as "we are not looking for easy ways out" :).
I think I'll make a tutorial about our wedding invitations  - with all the painful steps - after we send those out and people actually get them. We still have to make 75 more invitations. The number looks intimidating when written down, but we are making steady progress (when not writing blog posts or napping in the hammock).
And because you made it through my another lengthy process I'll show you my other wedding-related Cricut project - bridal shower Thank You cards:
[caption id="attachment_269" align="aligncenter" width="300" caption="I cut out the top layer of the card on the Cricut (spending more time in Inkscape than I want to admit). The inside of the card was from the translucent paper in Birch from Paper Papers."]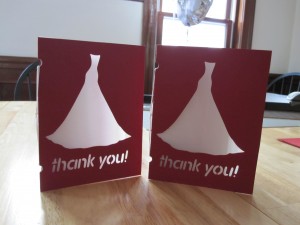 [/caption]
I consulted the Internet before attempting to tie a ribbon on my cards. Yay for the YouTube ribbon-tying-videos!
[caption id="attachment_270" align="aligncenter" width="300" caption="I tied the translucent layer with the top red layer of the card with the ribbon. I am SO glad we are not tying anything in our invitations with ribbons. I cannot imagine how people do it and yet it seems to be a very popular thing to do. I can now understand my friend A. who was complaining about tying ribbons on his wedding invitations. "]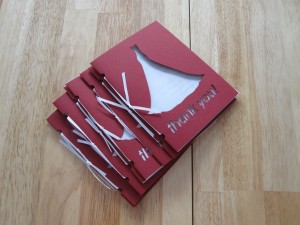 [/caption]
I used the stamp I've used on the bridal shower gift tags on the backs of the cards.
[caption id="attachment_271" align="aligncenter" width="300" caption="The backs of the cards. Do you recognize the stamp?"]
[/caption]
I liked how the writing inside the cards looks on the card's outside - as if the wedding dress on the card was embroidered.
[caption id="attachment_273" align="aligncenter" width="300" caption="I hope the recipients of the card liked it! "]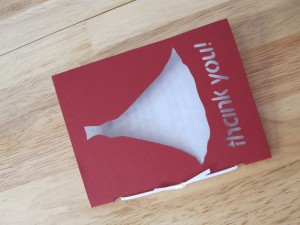 [/caption]
Stayed turned for the show and tell on our invitations...
[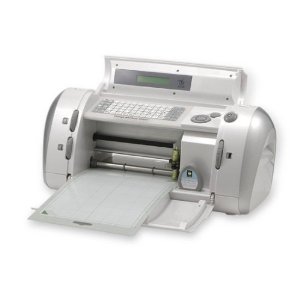 ]: http://www.amazon.com/Cricut-29-0001-Personal-Electronic-Cutting/dp/B000W5I9OC